How One Company is Driving Innovation in the Furniture Buying Process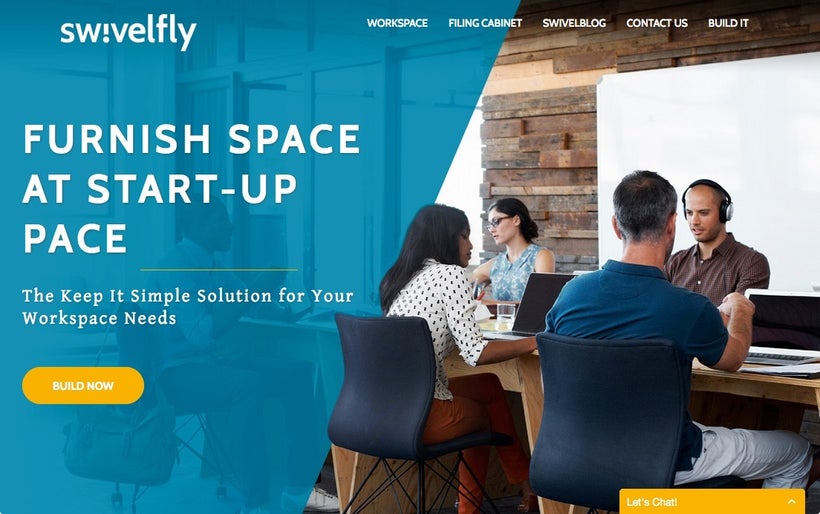 Innovation is at the core of any successful business. Today's consumers and enterprises crave it, from integrated technological advancements and shiny new gadgets to improvements to the way we work, including where we work and how we work together. The furniture industry is by no means immune to this drive for innovation, however, many industry leaders are beginning to realize that while we have been focused on product innovation, we may have neglected process innovation. It's time to catch up.
In an industry designed around complex furniture, long leases and bulk buying power through aligned dealerships, we are facing big changes. Leases are getting shorter. Some may argue furniture is getting simpler, and specifiers are looking for a wider variety of aesthetics than ever before. The rise of co-working tells us the future of work may look different than anyone can imagine in today's terms. While we can't possibly fathom a complete picture of what tomorrow's workplaces will bring, we can better connect with buyers and find ways to innovate the furniture buying process.
One company that is a breath of fresh air is Swivelfly, which is looking to revitalize the way we buy furniture. This alternative to the traditional furniture buying process, offers furniture as a service to enterprises. "We're taking the process of buying furniture and incorporating a financial line item to it," says Bruce Paul, Swivelfly CEO and founder. "Furniture, no matter how you slice it, is a liability. At Swivelfly, we're taking it off the balance sheet and making it a monthly expense."
Swivelfly works on a subscription model, with payment based on the number of employees in an office. Three levels of subscriptions are offered. The base level offers a limited selection and is designed to align directly with a building lease while a pro level offers the next stage of furnishings beyond systems furniture and encompasses a wider variety of products, including filing, ancillary, cafe, etc. The enterprise level offers furniture dealer-type services with customization and even more options.
What some may not realize is the word "lease" in furniture functions very different than the automotive lease we are all familiar with. When you lease a car, you pay a monthly fee, and at the end of the lease you give it back. However, traditionally in furniture, when you "lease," it's really more of a financing option. At the end of the furniture lease the lessee owns the pieces and must figure out what to do with them if they no longer are needed. Additionally, if you want a new style or a piece that better suits your space, a traditional lease doesn't offer the option to swap out your furniture, as you technically own it at the end of your finance term or lease. This is why the Swivelfly model is so interesting — it truly gives new furniture sourcing options that both reduce the total cost of ownership and the complexity of the buying process — all while incorporating sensible design.
What's more, the company considers the whole lifecycle of furniture. As Paul put it, "With the traditional purchase model, at the end of the life cycle furniture is worth the cost it takes to remove it — if you're lucky. We take away that expense by offering furniture as a service with end-of-life removal as part of our service. Think of it as spreading the full lifecycle cost of furniture into an affordable monthly payment."
Designed to work with 10- to 400-person offices, Swivelfly caters to companies that crave simplicity and spaces needing traditional systems furniture that is unique, but not difficult to source. "Today's furniture buying process often is overly complicated for smaller office spaces," Paul says. "Some customers want a great look without hundreds of options. Instead of offering them 20 different choices for white laminate, we're giving them two. For the companies that want more choice, we can scale to that, too."
In a world where convenience is king, and budgets are getting tighter, Swivelfly presents a unique alternative to the traditional buy or rent model. The company offers a stand-alone solution to a niche part of the market that seems to be under served: the mid-range lease. Its pioneering solution to furniture sourcing is inspiring and offers insights into unique strategies that can be leveraged across different sectors of the furniture buying spectrum with the potential to drive innovation throughout the entire process.
"Changes to improve furniture aren't going to come from product innovation," Paul says. "We've already near mastered that. Real improvements to the world of furniture are going to come from the distribution and buying process. The process pain is felt by everyone — manufacturers, dealers, project managers and clients. But at the end of the day, the client doesn't care what steps need to be taken, they just want a simpler process. This industry has been crying for someone to disrupt it. That's our goal for Swivelfly."
Swivelfly is in the midst of additional funding conversations. To learn more about getting involved with this forward-looking company, visit www.swivelfly.com.
This article originally published in the Business of Furniture, a division of Bellow Press on October 25, 2017. It was republished in the Huffington Post on November 5, 2017. It is republished here with permission.